---
Ixion - General Info - Zorak - 13-10-17



L2OFF/PTS - High Five x10



---
Clan Hall Price/Rent:
x10
*Some quests have their rates increased.
---
---
---
[FEATURES]
Retail High Five Part 5 gameplay - NO GM Shop

NO custom NPC Buffers

Retail Song/Dance duration

Main Class (Subclasses are

not

cumulative)

Subclasses can level up to 85

14-Day Olympiad Cycles

Retail safe enchants (+3/+4 full body)

NO P2W | DDoS Protection | Dedicated Staff 24/7


Available proxys for European players



[EXTRA FEATURES]
Ingame Panel (Alt+B) with Learn Skills and Donation Shop functionality.

Offline Trader - FREE (.offlineshop)

Auto-Pickup - FREE (Enabled by default, can be turned off and on with .autopickupoff / .autopickupon)


Dual Box - FREE

(2 free clients per PC. Additional boxes available through Donation Coins)

Lock & Exp lock systems - FREE (Read more details here)

Anti-Theft tracking

Anti-Hack/Bot systems


$150 USD Prize for the first Aden Castle owner!




Additional USD in Prizes for Baium/Antharas/Valakas kills!



[CLASS CHANGER NPCS in Giran / Dion / Gludio]
1st Class Change - 10 Adena

2nd Class Change - 100 Adena

[DONATION SHOP]
https://www.undergames.net/foro/Thread-Ixion-Donation-Shop
---
[General]
[Skills]
Skill Changes
[Items]
[Quests]
[Bosses and Instances]
---
Todos los horarios son GMT-3
( Brasilia / Buenos Aires )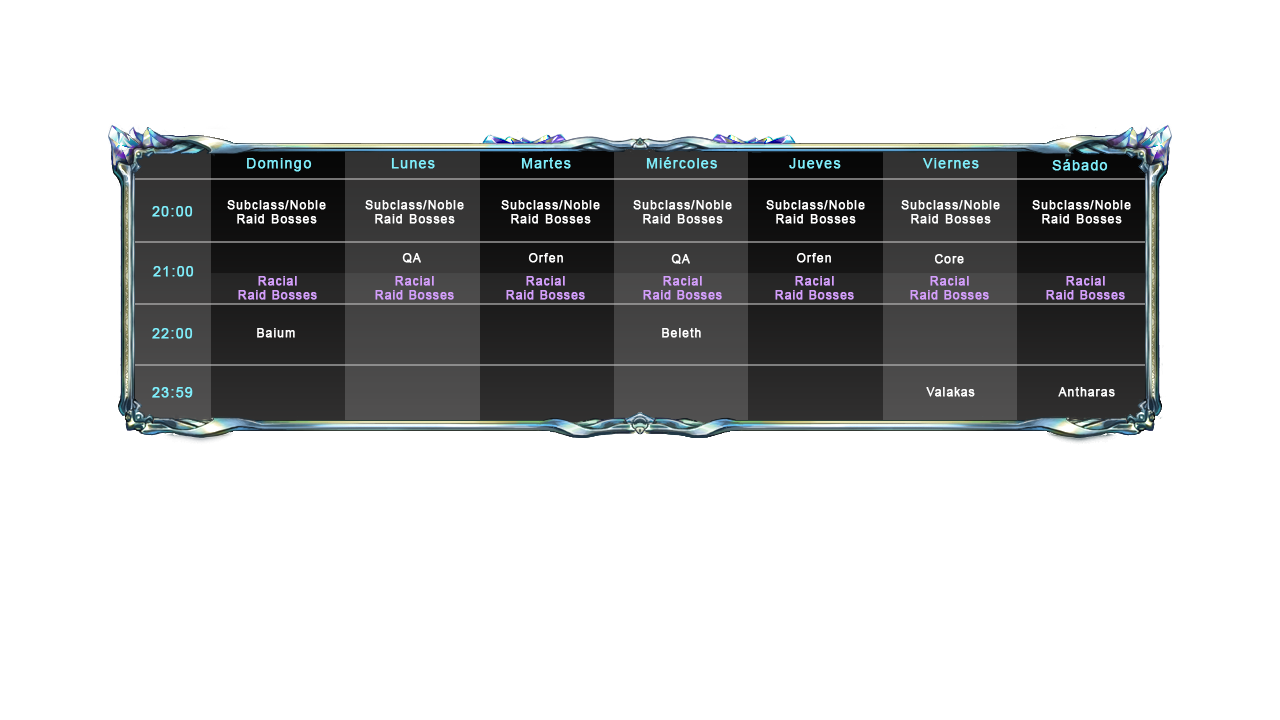 Normal Raid Bosses:
20h +/- 2h
Varka/Ketra Raids, Uruka, Ember, Anais, Gwindorr, Water Spirit Lian*:
22:30 hs every day
Giant's Cave Raid Bosses**:
Every 4 hours
*(Drop: Racial spellbooks)
**(Drop: chance of Vesper armor)
---